Your FESCO Electricity Bill can be viewed online if you have not yet received it. It is a free website to view your FESCO online bill easily.
Online FESCO Duplicate Bill 2023
اگر آپ اپنا فیسکو کا بجلی کا بل چیک کرنا چاہتے ہیں تو آپ بلکل صیح ویب سائٹ آن لا ئن بل چیک پر موجود ہیں۔
Now, you can view your duplicate FESCO online bill very quickly. You can print, download and save your WAPDA bill for your record. All you need is a reference number below to check your bill.
You can quickly access and see the previous bill record and its due date. And also can download a copy of the FESCO duplicate bill or take a print of your FESCO WAPDA electricity bill for payment.
How to check your FESCO Electricity Bill Online بجلی کا بل کیسے چیک کر سکتے ہیں؟

اپنا بجلی کا تازہ ترین بل دیکھنےکیلئےآپ کو چودہ ہندسوں (14اعداد) والا "صارف نمبر یعنی ریفرنس نمبر پتہ ہونا چاہیے جو کہ آپکے بل پر موجود ہوتا ہے ۔
آنلائن بل چیک پی کے پہ آپ اپنے گھر کا بجلی کا بل اپنی دوکان یا دفتر کا بل بلکل فری چیک کر سکتے ہیں۔ آپ کو کہیں جانے کی ضرورت نہیں آن لائن اپنے موبائیل، لیپ ٹاپ یا کمپیوٹر پر کہیں بھی بیٹھے بل کو دیکھ سکتے ہیں یا پرنٹ لےسکتے ہیں ۔
Steps to check online FESCO electricity bill:
Visit this fesco online bill check website.
Enter your 14 digit reference number in the input field.
Click on the "Check Bill" button to see the latest bill amount and its due date.
Click on "View your full Bill" to see the complete bill which you can download or print the full bill.
Reference Number Location to Check Duplicate FESCO Bill
For a better understanding of our customer, here is a sample bill showing the box of your reference number. Just look at the highlighted area to check your 14-digit number.
You can check other FESCO and electricity bills for residential, commercial, or industrial connections online on this website. For this purpose, enter your 14-digit reference number in the input field and get your FESCO electricity bill. Look at the picture below. You can easily understand where to find the FESCO reference number:
FESCO bill reference number location
نیچے تصویر میں بتایا گیا ہے کہ چودہ ہندسوں والا نمبر کہاں سے ملے گا بل میں کہاں لکھا ہوتا ہے یہ نمبر
فیسکو کے علاوہ آپ واپڈا کی دوسری کپمینیوں جیسے پیسکو، میپکو، سیپکو ۔ لیسکو ۔ ہیسکو، آئیسکو اور قیسکو کےبجلی کے بل ہماری ویب سائیٹ سے حاصل کرسکتے ہیں
Type 14 Digit Reference No Without any Space
How to Pay your FESCO Electricity Bill
Online payment options are also available for FESCO bills. You need to start an online account through your bank account to make an online payment.
Contact your bank and follow their instructions. JazzCash and Easypaisa are the top online bill-paying services. You can use any bank, post office, or NADRA E-Sahulat to pay your FESCO invoice.
If you want to make an online payment for your Electricity Bills, read this complete step-by-step guide How to Pay Your Electricity Bills online?
New FESCO Connection
If you want information about getting a new electricity connection, visit the official website of FESCO. You will get all the necessary information online. The application process seems very difficult, but it is effortless and easy to follow. To submit your application for a new electricity connection, visit your nearest office and attach some necessary documents with the application.
About Company (FESCO)
(FESCO) stands for Faisalabad Electric Supply Company. It provides electricity to almost 4.01 million customers. The estimated population under the FESCO territory is above 26 million. FESCO is rated as one of the best electricity distribution companies in terms of operational performance due to a very low amount of loss in their distribution system and a high billing collection rate. Faisalabad's primary service area is Manchester, Pakistan, for its extensive textile industries.
Faisalabad Electric Supply Company
Here are the areas covered by FESCO:
FESCO Supply Coverage Areas:
FESCO is responsible for maintaining electricity services in the following areas/cities:
| | | |
| --- | --- | --- |
| Faisalabad | Sargodha | Mianwali |
| Khushab | Jhang | Bhakkar |
| Toba Tek Singh | Chiniot | |
If you reside in any of the cities mentioned above in the list, you can get your FESCO Electricity bill here.
Online bill check website is quite handy for checking your latest electricity bill in 2023. If you are looking for your electricity bill for the current or previous month, you can check it in the old bill history.
FESCO Map of Jurisdiction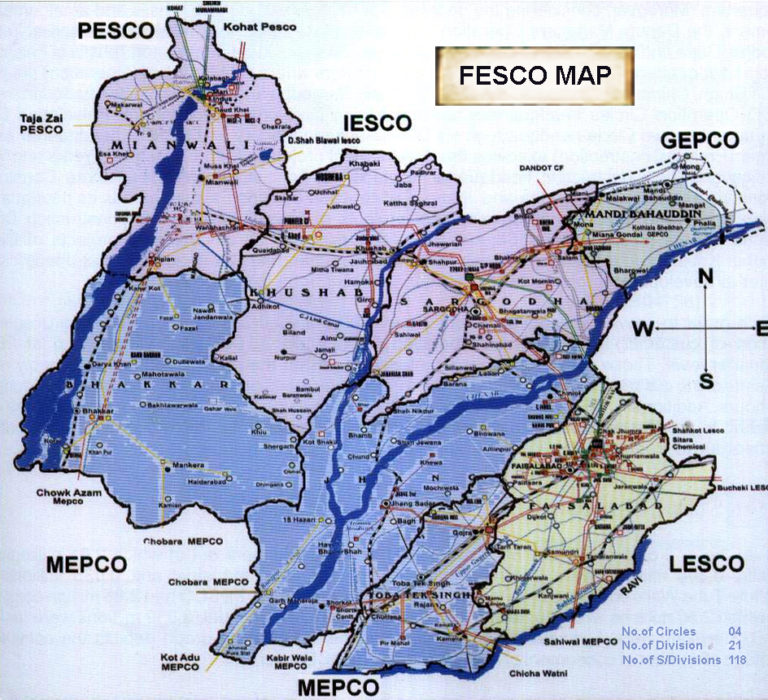 Enter your 14-digit reference number on our website for online bill check to get a duplicate copy of your FESCO Electricity bill ( واپڈا کا بجلی کا بل ) within minutes.
FESCO Bill Payment Process:
FESCO also provides you with the accessibility to pay your FESCO electricity bills either online or offline. Please check the below-mentioned process detail about how you can pay your electricity bills:
FESCO Offline Payment:
It's up to you to pay your FESCO electricity bills in all the branches of commercial banks and post offices. The printed/ hard copy of the bill is necessary for offline payment.
FESCO Online Payment:
You can also pay your FESCO electricity bills online through any bank ( Meezan, HBL, UBL, Bank Alfalah…etc). Furthermore, you can even pay your FESCO bijli Bill using EasyPaisa or JazzCash.
FESCO Helpline Numbers:
| | | |
| --- | --- | --- |
| Telephone | Fax | UAN |
| +92 (41) 9220184 – 9220229 | +92 (41) 9220233 | 080066554 |
FESCO Helpline Numbers
FESCO provides help line facility to their consumers in your nearest area, or specific department. In case of any complaint or emergency you can check out the FESCO telephone directory.
FESCO Head Office Address:
FESCO Headquarters, West Canal Road, Abdullah Pur, Mansoorabad, Faislabad.
Frequently Asked Questions
How to download and print FESCO duplicate bills?
You can download and print your FESCO electricity bill online at onlinebillcheck.pk/fesco-online-bill by entering the 14-digit reference number.
How can I change the name on the FESCO Wapda bill?
You can apply for a name change by visiting the nearest wapda office in your city. The process to change names is the same as a new connection.
What is FPA in FESCO electricity bill?
FPA is a Fuel Price Adjustment. Its a system to adjust electricity fees based on fuel prices fluctuation. The FPA price belongs to the fuel pricing of rental power companies that generate electricity from Crude Oil etc.
What PM Relief in FESCO utility bill?
A discount/relief provided by the Prime Minister of Pakistan, or Government of Pakistan (GOP).
Where can I calculate the FESCO electricity bill?
You can calculate fesco estimated bill amount from our Fesco bill calculator
Can I pay my FESCO utility bill in installments?
No, the installation process is not applicable in FESCO. However if you have pending dues in your bill, you can avail installments for that amount where you will also have to pay interest as per bank rates. You can further read the "bill installments" section in lescobill.pk as all discos have almost the same process for bill installments.
How can I apply for bill correction?
If your bill amount is incorrect, you can visit the customer services office or nearest wapda office for correction.
WAPDA Electricity Bill 2023